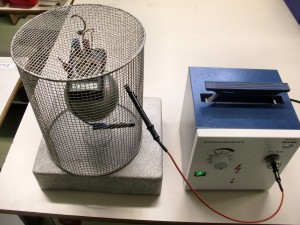 …so die Überschrift über einem Kapitel der Elektrostatik in Feynmans Lectures on Physics. Ich war noch Student, als ich den Text zum ersten Mal las. Das 1/r2-Problem ließ mir damals keine Ruhe. Ich musste der Sache auf den Grund gehen. Studierte die Literatur dazu und versuchte, Maxwells Rechnungen nachzuvollziehen. Meine Notizen verarbeitete ich später zu einem kleinen Artikel, der in Physik und Didaktik1 erschien. Hier Maxwells Rechnungen und die Beschreibung eines einfachen Demonstrationsexperiments2 (Foto).
1   H. Theissen:  Ist die Kraft zwischen zwei Ladungen wirklich proportional 1/r2?, Physik und Didaktik 3, 1975, Bayerischer Schulbuch-Verlag, München, S. 57
2   nach Z. Šabatka und L. Dvořák: Two simple ways of verification of the 1/r2 dependence in Coulomb's law at both high school and university level. Karlsuniversität Prag. Internetadresse unbekannt.